Articles > PDP124P repair notes
I have put together a few bits of information useful for repairing d530 SFF PSUs. Please note that this is technical material, and not intended for most end-users. However, if you have the skills in SMPS repair (or electronics in general), this information might help.

As usual, disclaimers apply. After all, this information is on the internet. Use your own judgment and common sense. If you destroy your PSU, computer, or even burn down your house, it's your own fault.
In-machine repair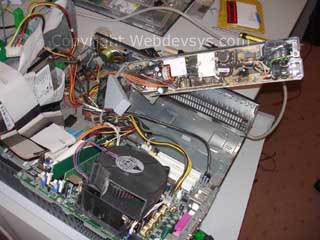 In-machine repair It is very possible, if not convenient, to repair the PSU whilst still attached to the rest of the system. It only needs to be partially removed. It removes the necessity to disconnect and reconnect cables. Very suited to bulk repair jobs.

If using this method, it is highly recommended that you use some type of current-limiting device when testing. The 'series light bulb' trick works quite nicely, especially when you have a unit which can switch in or out several light bulbs to increase/decrease the resistance.
Commonly failed components
MOSFET: 900v 9A N-Channel. Can be Toshiba 2SK2611, 2SK3548, Fairchild FQA9N90C or equivalent
Q3, Q2: replace with PNP 60V 500mA MPS6652 or equivalent
U1: UC3845B / UC3845BN PWM controller chip
R5: 1K ohm (couples U1 to current sense)
R9: 22 Ohm (MOSFET Gate coupler to 3845B (U1) output drive)
R11: 0.22 ohm, between MOSFET source and -ve rail, used for current sense by U1
U2, U3: Opto coupler. Sometimes they both survive. Usually one fails (permanently conducting primary side).
Fuse: T5A 250v M205. Ceramic sand-filled type. Can be replaced with a glass fuse, but less safe (potential for glass shards when it blows).
If after replacing the above, the PSU still fails to start (or runs for only a split second), the following should be checked:
D2 & D3: 1N4148 - can go short circuit, preventing the feedback loop signal from reaching the UC3845BN
Usually the 5v standby circuitry survives. It is on its own self-contained board labelled 'Footlong +5V AUX daughterboard'. If it fails, usually the integrated switcher IC is the culprit. Can only be replaced with part from 'Power Integration', TOP244P.

The secondary (isolated) side of the PSU almost always survives a fault, unless something silly was done, such as shorting the outputs.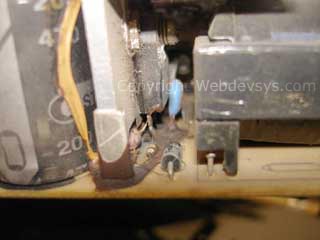 Horrid glue surrounding the Gate, Drain & Source pins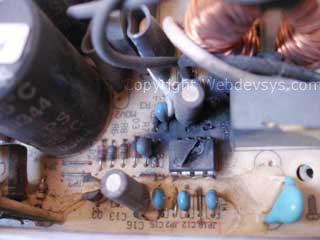 Blown up - the UC3845B controller IC
Have a 'How do I get this part' Question? Don't ask!
Please don't ask me how or where you can obtain the parts mentioned above. If you are qualified to undertake the repairs, it is assumed that you already know where to source the parts. I'm sure an internet search will yield some good suppliers.

If you want your PSU repaired professionally, read the page on HP Compaq d530 308617-001 Power supply unit repair. We provide this service at competitive rates.
---
Comments